China's National Holiday, a week long celebration that occurs on the 1st of October each year to celebrate the founding of the Republic, is one of two big movie release periods of the year, the other being Chinese New Year.
This year there is a massive eight titles movies fighting out for top spot, three of which were delayed from Chinese New Year due to COVID. It's a very interesting line-up of films, with 4 animations and 2 comedies, clearly highlighting this is a period for family friendly movies.
But the action actually starts the day before on the 30 September. Last year, three massive blockbuster movies were released on that date (The Captain, The Climbers and My People My Country), while this year sees 2 release, although arguably they're the biggest of the group.
1. Vanguard (September 30) Starring Jackie Chan, Directed by Stanley Tong
Most people will claim that this movie is the biggest of this year's crop (although I disagree). Fans are hoping this highly anticipated action-comedy film, co-produced with Hong Kong, reminds us of the best Jackie Chan movies of the 80's and 90's, where the action was fast and exciting and the comedy was on-point. Disappointingly there looks to be a heavy use of CGI, but lets hope the action is what we've come to demand from Jackie Chan
2. Leap (September 30) Starring Gong Li and Huang Bo, Directed by Peter Chan
Another film, alongside Vanguard, that was supposed to release during Chinese New Year, is this biopic about the career of Chinese Olympic volleyball Champing Jenny Lang Ping. This movie follows her early career from the 70's, starring Lang Ping's real life daughter Lydia Bai as her, where she meets Zhonghe Chen, to her Olympic gold winning days in the 1970s, through to her as the USA team coach going up against Chen, to finally her taking over the reigns of the Chinese national team and guiding them to a historic gold medal victory in Rio back in 2016. As well as starring Huang Bo, this movie also features most of the 2016 Olympic Gold Medal team playing themselves.
3. Jiang Ziya (October 1) Starring Zheng Xi and Ji Guanglin, Directed by Cheng Teng and Li Wei
This is the movie I think will be the biggest release of the period. Yet another movie that was set to release during Chinese New Year, this is the highly anticipated follow-up (but not sequel) to 2019's NeZha Birth of the Demon Child. From the same studio, this is the second movie in their Fengshen trilogy. If they hoped to keep the 2021 release of the third movie, The Monkey King, then this movie had to come out this year. This is a real testament to the quality of Chinese computer animations and will also be receiving an English dubbed release via Well Go USA.
4. My People My Homeland (October 1) Starring Huang Bo, Baoqiang Wang, Haoran Liu and more, Directed by Hao Ning, Zheng Xu and more.
Last year to celebrate the 70th anniversary of the PRC, the movie My People My Country was released. A serious film with 6 short stories about major Chinese events. This movie, is the opposite of that! From producer Zhang Yimou and starring more Chinese actors and directors then we can mention, this movie is 6 short comedy stories about different aspects of Chinese life. So far there have been three trailers released. Below is the first one, the UFO encounter, starring Huang Bo (he is a busy man) and Detective Chinatown's Baoqiang Wang and Haoran Liu!
5. Coffee or Tea? (October 1) Starring Haoran Liu and Yuchang Peng, Directed by Derek Hui
Haoran Liu was also another busy man, although I bet he never thought this would release before Detective Chinatown 3! Produced by the director of Leap, Peter Chan, and also starring Yuchang Peng, who plays the young Zhonghe Chen in Leap, this movie is about three childhood friends who decide to start an online business - selling coffee or tea with just one click! Looks funny, but that's to be expected with this cast.
6. Kung Fu Mulan (October 1) Directed by Xi Chen
Disney isn't the only studio getting in on the Mulan action this year! The second of four animations coming out, this CGI fantasy action retelling of the classic story of Hua Mulan doesn't look as polished as Jiang Ziya, but might have a little bit more international appeal thanks to the Disney blockbuster. Fun Fact: there has been 2 other made-for-web movies about Mulan, and a TV series, released this year alone. Cashing in I'd say. At least this one looks fun.
7. The Octonauts: The Ring of Fire (October 1) Directed by Zhou Wei and Blair Simmons
I'm almost scared to write anything about The Octonauts, for two reasons. 1 - I don't know anything about them, 2 - they have a really rabid and loyal fanbase all over the world. When we debuted the first trailer on our Trailers Channel a few months ago, little did we know how popular it would be. And it had no English subtitles! So we decided to subtitle it so we could see what all the fuss is about. This is a Chinese/USA production that is very clearly aimed at a young audience, who no doubt will absolutely adore this. And I can't blame them. The cat looks kinda cool with that pirate patch.
8. Wonderful Kingdom: Enchanted (October 1) Starring Lao Yu and Xinyue Chen, Directed by She Chen
The last movie in the list, and the fourth animation, is strictly a children's only affair. Set in a wonderful magic kingdom and about a princess, no doubt the youngster will find charm in this one. I pity their poor parents who get dragged along to this one - they'd probably prefer Kung Fu Mulan or even Vanguard! Anyway, we have no trailer for this one, so I'll leave you with an image.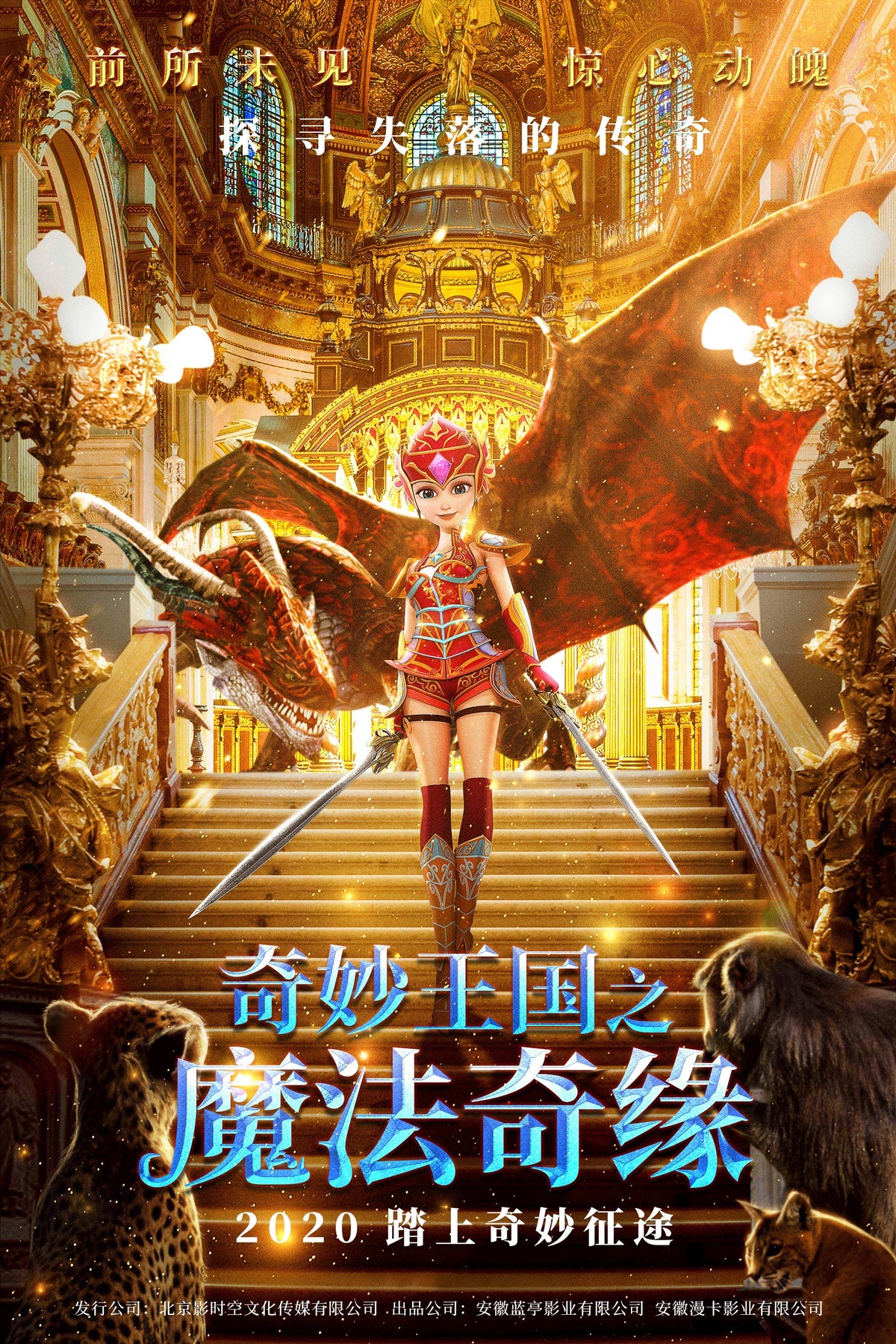 As always, Asian Film Fans has translated the original Chinese trailer, adding English subtitles for you to fully enjoy.
We give permission for you to share or republish this article, including the trailer. We just ask you acknowledge Asian Film Fans.