The 14th of December, 1985 saw the release of Jackie Chan's Police Story, the first entry in the long-running series of crime-action movies. To date, the film is frequently mentioned in various lists devoted to best action flicks, and, even Jackie himself considers Police Story to be his best movie. What made the series such a massive hit in Asia? Get your umbrellas ready because we are about to climb on the speeding double-decker bus. This is a retrospective editorial about the Police Story series.
Police Story (1985)
Many fans of Jackie Chan probably know this, but it is worth to recapitulate that Jackie tried to break into the American mainstream way before the 1990s. He starred in The Big Brawl (1980), and also appeared in a small role in The Cannonball Run movies (1981, 1984). Jackie's another chance for a break came with James Glickenhaus' The Protector in 1985. The movie became a disaster project for Jackie, even to such a extent that he completely re-cut the movie for the Asian market. Disappointed with the missed opportunity, Jackie set out to make his own cop film, simply titled as Police Story.
The first movie keeps the viewers out of breath. From bombastic chase in the shanty town through relentless fights with the bad guys (most notably in the parking lot and in Chu Tao's mansion) to the movie's thrilling shopping mall finale (sarcastically nicknamed by the crew as "Glass Story"). Without a doubt, Police Story grounded Jackie Chan's position as a Hong Kong action star of the 1980s. It became a genre-defining movie due to its new style of action and insane stunt work.
In addition, it has to be noted that the film became such a cult hit that the Hong Kong Police Force used the movie's poster as well as the main theme (sang by Jackie) to encourage the youth to join the force in their recruitment campaigns.
Police Story: Part II (1988)
Similarly to Jackie's other successful projects, like Drunken Master (1978), Project A (1983), and Armour of God (1986), Police Story also received a direct sequel. Interestingly, not only Jackie but almost all of the principal cast members from the previous film reprise their roles.
Police Story 2 starts off rather confusingly as it directly recaps the events from the first movie in the opening credits and then leads the viewers to think that the main villains are the very same bad guys from the original Police Story. This confusion lasts for about 25 minutes and it drags the story down in spite of great stunts done by Jackie and his team, but all of a sudden, the plot takes a 180 degree turn and we see Jackie meticulously investigating the case of mysterious bombings. It is at this moment where things start to pick up and the sequel surpasses the original with its spectacle of pure action.
The only disadvantage of this movie is the misleading first act. I suspect this was due to the fact that Jackie initially wanted to make a really direct sequel story, but then the idea fell through, so the scriptwriter Edward Tang combined two different screenplays into one. Then again, I may be wrong. Jackie's productions are known for being created backwards: action set pieces first, and then building the plot around them.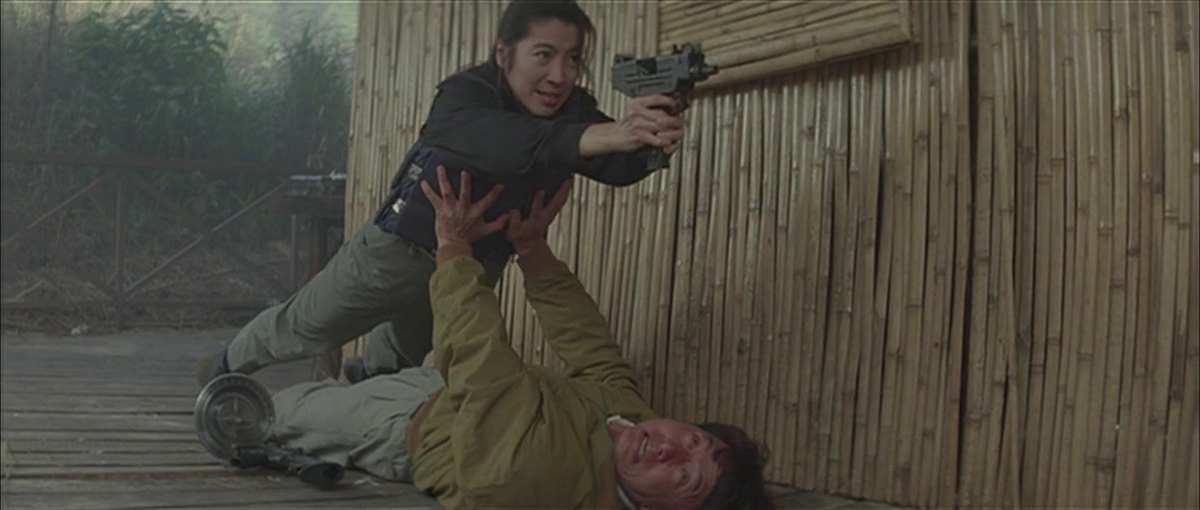 Police Story 3: Super Cop (1992)
Up until Police Story 3, Jackie's movies never had a second sequel. In an interview, Jackie stated that he was approached with the idea of doing a third Police Story by young stunt coordinator Stanley Tong. The two filmmakers combined their ideas for action set pieces and, ultimately, made the finest entry in the franchise.
Super Cop does not offer a bus chase or exploding factory, but in turn, we get to see a boat chase, criminals' base camp scorched to bits, and the outstanding finale in Kuala Lumpur, which is a top-notch 10 minutes long sequence. Basically, everybody just remembers the moment of a helicopter landing on a speeding train (no CGI!), but for me, the best part is Jackie hanging hundreds of feet above Kuala Lumpur's downtown. Jackie Chan recalled fearing this stunt as he was attached to the helicopter ladder only by steel wires.
However, Jackie was not the only person whom the movie has taken its toll on. The movie marked Michelle Yeoh's return to the industry after acting hiatus, and she had to do many painful stunts, including the jump on a train using a bicycle. In addition, Maggie Cheung badly injured herself while performing an actual fall out of a helicopter. If you have doubts as to how much blood, sweat, and tears went into making this sequel, all the evidence is present in the end credits' outtakes.
In terms of trivia, it should be mentioned that this was the first Hong Kong film to use sync sound, thus you can hear Jackie's original voice (in Police Story 1 and 2, he was dubbed by a professional voice actor). Also, Police Story 3 got butchered by the Dimension Films in 1996: standard crappy English dub, music score replacement, scenes cut out, and some fight screams added. Sadly, the Dimension version is the most prevalent one on DVD.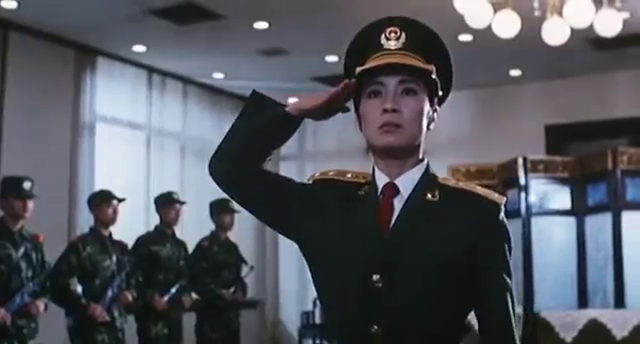 Project S (1993)
Michelle Yeoh proved her stamina on the set to such an extent that director Stanley Tong made a spin-off movie centring around Michelle's character from Police Story 3. Project S is a somewhat underrated and forgotten film which very well deserves to be counted as part of the series.
Even though the year 1993 marked the decline of Girls with Guns genre's popularity, Project S still holds up to the standards of a proper action flick. One can see that Golden Harvest poured a lot of money into the film's budget which was responsibly used by Stanley Tong. The movie starts right off the bat with a fast-paced credits sequence (Yukari Oshima's cameo!) and swiftly moves on to other explosive set pieces and nicely choreographed fights. All of that is accompanied by a catchy music score by Richard Lo.
It has to be mentioned that Jackie Chan appears in a brief cameo role as Inspector Ka-Kui in a drag chasing a jewellery thief (Eric Tsang) who is dressed up exactly like him. Nevertheless, Jackie's appearance was quite exploited by some distributors who shamelessly slapped his face on the front cover of the movie, even though he shows up for three minutes at best. In addition to this, Project S suffered from a whole slew of alternative titles: Once a Cop, Supercop 2, Police Story IV, and (my favourite) Police Story 3 Part 2: Supercop.
Regardless of the marketing, Project S is primarily a Michelle Yeoh vehicle. This is her last true Girls with Guns movie and it is a real shame that she was not involved in any more of these little gems from the 1990s. It is a pleasure to see her beating up bad guys in a flash and fire tons of bullets.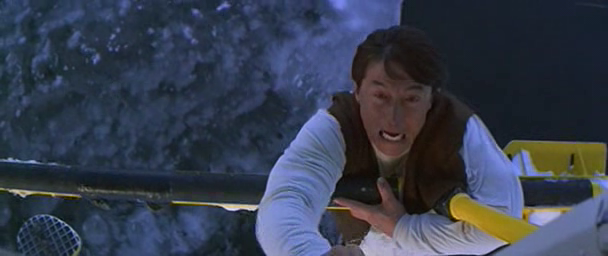 Police Story 4: First Strike (1996)
Come 1996 and Jackie Chan/Stanley Tong duo released the fourth instalment called Police Story 4: First Strike. The storyline must have been inspired by Bond movies, particularly GoldenEye (1995), due to the strong espionage theme and the nuclear weapons plot. However, the film has plenty of room for Jackie's breathtaking stunts.
In my opinion, First Strike lacks a bit in terms of action when compared to the previous three films. Indeed, there are some great scenes (for example, a ski chase, fight on parapets of a hotel, or a showdown at an aquarium), but none of these surpass Jackie's mall jump in the first movie or train fight in Super Cop. Nevertheless, I appreciate beautiful locations shot in the city of Brisbane, Australia.
That is not to say that First Strike is not enjoyable. On the contrary, it is an entertaining action flick, but its main disadvantage is caused by the fact that there are two versions of the film available out there: The original uncut version (which runs at 110 minutes) and the American cut (with 80 minutes of runtime). First Strike is one of the rare Jackie's productions that I prefer to watch in an altered form.
The uncut version has atrocious multi-national dialogue (caused by amateur actors playing foreigners), bad pacing, and the music score that is basically a looped tune. The American cut, on the other hand, has extended opening credits, brand new English dubbing, and catchy music score composed by J. Peter Robinson. This cuts trims a bit the prologue sequence and the aquarium fight. The only scene which, I believe, was fully deleted features Jackie begging for money to make a phone call. In addition, the title was altered as well. Instead of being called a Police Story, the film was released in the U.S. as Jackie Chan's First Strike. Interestingly, First Strike remains (to date!) Jackie Chan's highest grossing picture in Hong Kong.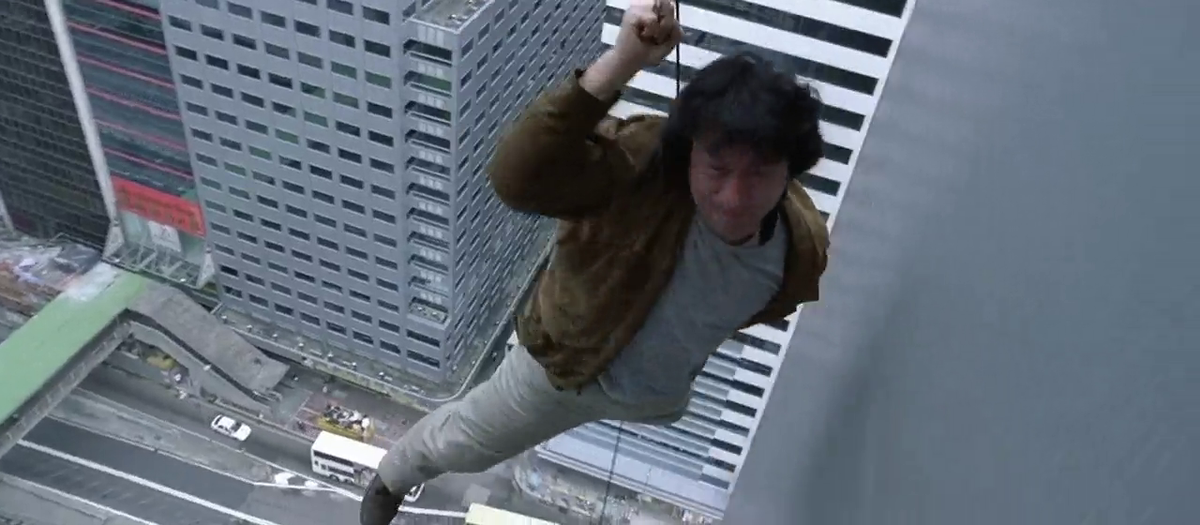 New Police Story (2004)
8 years after the last Police Story instalment, Jackie Chan returned to the series with a complete remake, simply called New Police Story. Directed by Benny Chan, the movie distances itself from the previous entries due to much grittier style and heavy violence.
What I like the most about New Police Story is the change in tone. From the opening scene, we see Jackie as a fallen cop. He is no longer "Mr. Nice Guy" who gets himself in trouble only to heroically save the day. His new interpretation of a police officer is that of a vulnerable man who seeks redemption. Indeed, it is a great story arc. In addition, the plot itself about a gang of game-addicted youngsters (no longer gangsters or terrorists as in previous films) is excellent and accurately reflects the high-tech feels of the early 2000s.
In terms of action, there are lots of amazing sequences. We get a new double-decker bus chase, disarming the bomb scene, and final confrontation at a convention centre, to name but a few. Definitely, my favourite action set piece is the building wall drop. The blooper reel at the end of the film clearly shows what an arduous sequence it was to shoot (again, without any CGI!).
With regard to disadvantages, the film tends to be a bit over-melodramatic in places. There are some moments when the viewer wants to catch a breath, but the drama just presses on. Nevertheless, there's still some space for humour, mostly coming from the character of Frankie (played by Nicholas Tse). This movie is undoubtedly one of the strongest entries in the series.

Police Story (2013)
Police Story 2013 is the final, at least so far, entry in the series. Similarly to New Police Story, this is yet another remake, which does not have anything in common with the previous entries. Released internationally as Police Story: Lockdown, the movie presents Jackie as a mainland Chinese officer who tries to deal with a hostage situation.
Indeed, Police Story 2013 is a radically different film, even to such an extent that it divided the fans. Online reviews give it mainly mixed ratings. Due to its low-key approach and visible reliance on CGI, the movie has pretty standard action set pieces which are, indeed, a far cry from Jackie Chan's past achievements.
On a side note, some rankings include Kirk Wong's Crime Story (1993) and Leo Zhang's Bleeding Steel (2017) as parts of the Police Story franchise. These are, in fact, completely stand alone movies. In Crime Story we see Jackie playing a cop on the edge who tries to rescue a kidnapped businessman; whereas in Bleeding Steel, Jackie plays with cyberpunk motives (though the movie was released in Japan under the title Police Story Reborn).
This was my retrospective look at the Police Story series. What is your favourite part? Would you like to see Jackie doing an 8th Police Story movie? Please share your thoughts in the comments. Thank you for reading.
Make sure to check out our editorial in video form as well:
Sources:Jackie Chan Police Story Extended ending (True HD 1080p) * JACKIE CHAN Talks About One of His Most Insane Stunts * A Conversation With Jackie Chan on Police Story * Police Story - Behind the scenes (Jackie Chan + Maggie Cheung) * Jackie Chan Interview * Flying High - An Interview With Jackie Chan on "Supercop" * Jackie Chan Police Story 3 - Supercop Outtakes Part 1 VERY, VERY RARE * Jackie Chan talks to Joe Leydon about "Supercop" * Jackie Chan New Police Story Making of