She's about to become a household name in western markets with the release of Disney's live action adaptation of Mulan – but where did Liu Yifei come from, and where have you possibly seen her before?
If you're new to Asian cinema, then chances are this could be the first, possibly second if you're a Nicholas Cage fan (Outcast), time you've ever seen her – but Liu Yifei had has a long and successful TV and movie career in China, starring in 5 TV shows, with another being filmed in 2020, and 19 movies, not including Mulan.
Here is a rundown of 6 things you need to know about Liu Yifei.
---
---
1. Liu Yifei is a US Citizen
Born on the 25th of August 1987 in Wuhan, China – she is the daughter of a professor from the Wuhan University and national first-class dancer.
At just 8 years old, she won the title of "Children's Cup" in the Children's Fashion Model Grand Prix in Central South Commercial City. At such a young age, she was destined for great things.
However, just 2 years later when she was 10, her parents divorced and she followed her mother to the US. While she is now a US Citizen, she still calls herself "Chinese", and returned to the mainland in 2002 to begin her career.
---
2. Liu Yifei was an Established Model
Before becoming an actor, Liu Yifei was an established and well-known model – with her striking beauty described by one photographer as having "eye-catching phoenix eyes; graceful with long hair, she is a super-perfect version of a young beautiful".
Accepted into the Beijing Film Academy's acting department in July of 2002, she was discovered by producer You Jianming who saw her in a real estate advertisement and immediately decided to cast her in his upcoming 2003 series The Story of a Noble Family, where she starred in 40 episodes as the character of Bai Xiuzhu. This well received drama scored very well with users on the portal site Douban scoring an average of 8.4. Douban is a one of the most influential cultural and entertainment sites in China – covering film, books, music, current events and more. The opinions of users on Douban are considered very important in China.
---
3. She's had a long and successful TV Career
From there, the work came quickly for Liu Yifei – 2003 saw her star in 54 episodes of the TV series Demi-Gods and Semi-Devils, which also scored highly with users with an average score of 8.3, before 2004 would give her the opportunity to star in 2 feature length movies.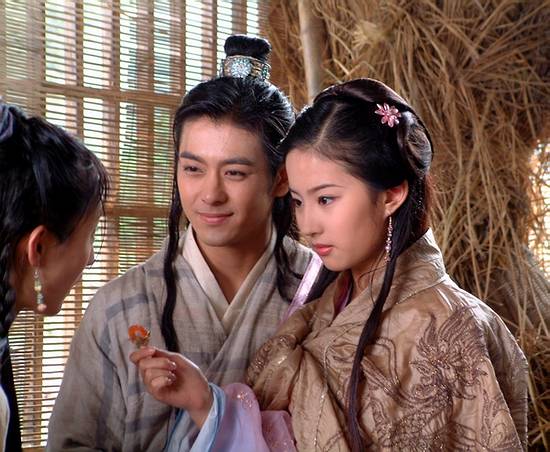 The first was Love Of May – also the first time she used the name Crystal Liu professionally – a Taiwanese romantic movie about a young girl from mainland China who meets a Taiwanese boy while chatting online.
This performance was followed up almost immediately by another Taiwanese romantic film – this time a comedy called The Love Winner about a young man who learns to fight in 7 days to fight for the girl he is in love with.
Liu Yifei returned to TV work in 2005 and 2006 starring in 34 episodes of Chinese Paladin, her highest rating body of work on the site Douban with an average user score of 8.8 out of 10, 20 episodes of the romantic drama Silver Age and 42 episodes of The Return of the Condor Heroes. This would mark the end of her TV series work until 2019, but she managed to squeeze in one more romantic movie called The Story of Abao in 2006.
---
4. Mulan is not her first American produced or co-produced film
A short break saw a 19 year old Liu Yifei return to the big screen in a very big way – in 2008's The Forbidden Kingdom, known more for the performances of Jackie Chan and Jet Li. Her star was rising in Hong Kong and China at the time due to her TV work, and the producer of the movie – Raffaella De Laurentiis – thought she would be the perfect in the role of Golden Sparrow. Even Jackie Chan commented that she was an unbelievable talent, predicting she would be a huge success because she was young and could speak English.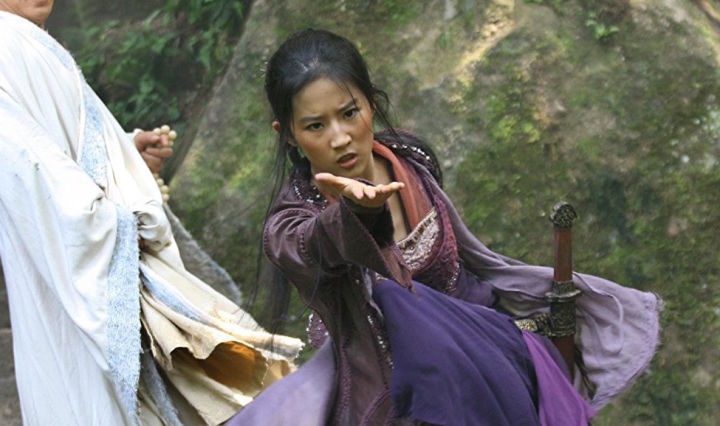 The Forbidden Kingdom is her first American movie – about a teenager obsessed with Hong Kong cinema who finds himself transported back in time to ancient China to join a group of warriors who are trying to set The Monkey King free. With above average user and critic reviews, this movie performed well at the box office, but despite Jackie Chan's predictions, western audience wouldn't see her in another English speaking movie for 6 more years.
---
5. Liu Yifei Has Starred In Some Popular Chinese Action/Fantasy Films
A starring role in 2010's Love In Disguise, alongside Joan Chen and Leehom Wang lead to yet another starring role alongside Louis Koo in Wilson Yip's horror fantasy film A Chinese Ghost Story in 2011. This well received movie is a remake of Ching Siu-Ting's 1987 classic of the same name. If you'd like to know more about that film, Click here to read a review of that film by Oliver from Asian Film Fans.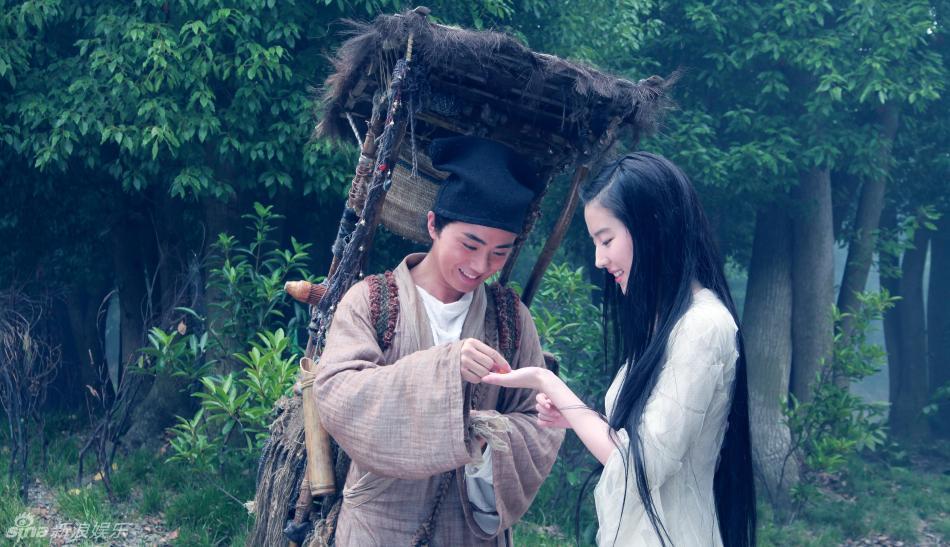 Showing that she wasn't afraid of working with more big directors and actors, her second movie of 2011 was the Daniel Lee directed White Vengeance, an action fantasy film set during the twilight years of Qin Dynasty – this movie also stars Zhang Hanyu, more well known in his role in The Captain and Hong Kong favourite Anthony Wong, a veteran with over 200 credits to his name and who would also star with Liu in one of her most well known Chinese language movies series to date.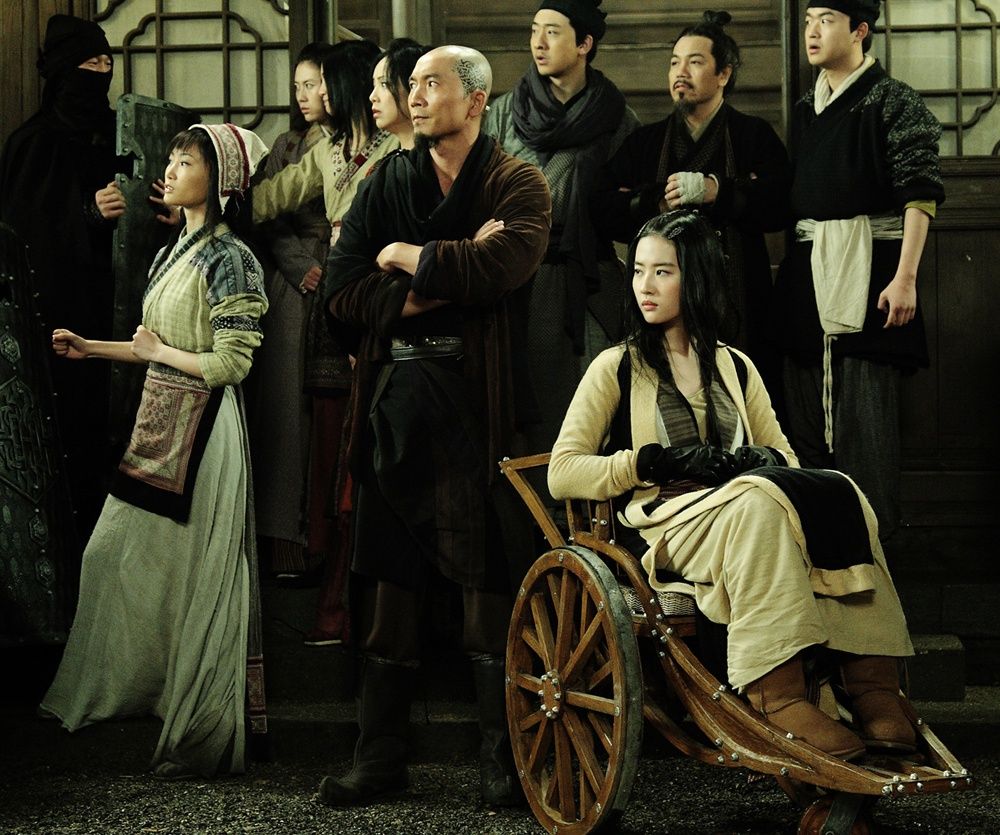 2012 saw her star in the first in a trilogy of Hong Kong martial arts movies about four constables called The Four. The Four in 2012, The Four 2 in 2013 and The Four 3 The Final Battle in 2014, where she starred alongside Anthony Wong and was directed by Janet Chun.
Her only other movie during that 3-year period was in 2012, where she starred alongside famous Hong Kong action Chow Yun-Fat in The Assassins.
At the conclusion of The Four trilogy, Liu starred in her second American made movie – this one alongside Nicolas Cage and Hayden Christensen in Outcast. This action movie cast Liu as the daughter of a Chinese Emperor who teams up with her brother and a foreign warrior to battle against her Uncle. This one wasn't a big winner with critics or users alike.
---
6. Romantic Films Are Where She Is Truly At Her Best
Following the release of Outcast, Liu Yifei went back to what she does best – romance films, with a string of romantic comedies or dramas over the next 3 and a half years starting with 2014's For Love or Money where she starred again with Joan Chen.
The Third Way of Love in 2015 being her only movie of that year.
While 2016 saw her star in 2 romantic comedy dramas like Night Peacock and So Young 2: Never Gone
Back she was back in the starring role in 2017, playing a heavenly goddess in the poorly-received romantic fantasy drama Once Upon a Time.
During this time her roles were not resonating as well with the audience as they previous had been. Her earlier works had started her career with a bang, frequently scoring high with user reviews as she established herself as romance movie and TV show favourite. However as she branched out to more varied roles – starting with The Forbidden Kingdom - it seems her original fans didn't like the work that Liu Yifei was doing, with user scores regularly averaging out at around 5 out of 10, down from her early career highs.
She ended 2017 starring in two films that resonated better with her fan base.
First up was the well-received war drama The Chinese Widow. This Chinese made movie features a Danish director in Bille August and an American writer Greg Latter and leading actor Emile Hirsch. Set during World War 2, The Chinese Widow tells the story of an American Air Force commander who is forced to make an emergency landing in China and is rescued by a widower, played by Liu, who is determined to hide him for the Japanese soldiers occupying her town. This movie was released a year after its Chinese release in American cinemas late 2018.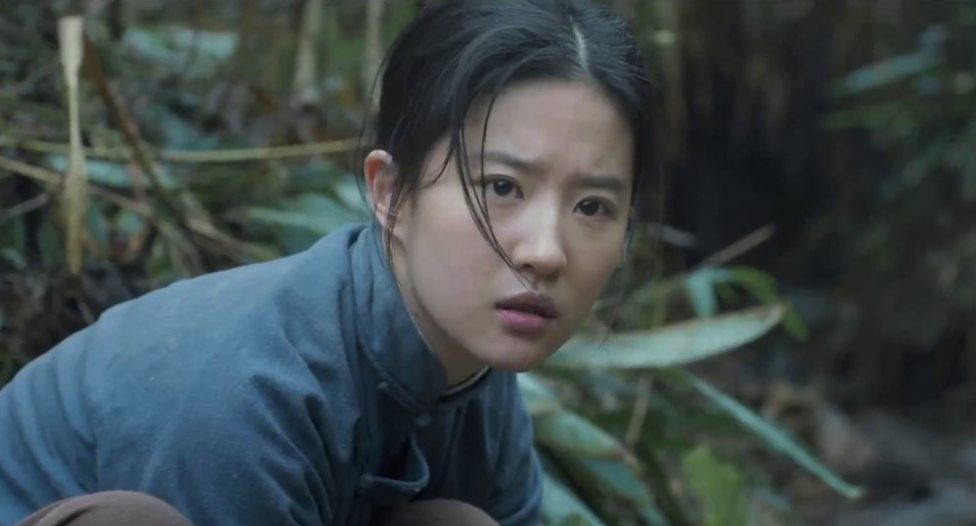 Her final movie on 2017, and the last movie she's starred in until the release of Mulan, was the CGI heavy comedy fantasy film Hanson and the Beast. This kind of odd romantic film stars Liu Yifei as the fox demon who unexpectedly forms a romance with a debt-ridden animal breeder desperate to find a wealthy girlfriend.
And this leads us to 2020, and what is undoubtedly her biggest role to date in Disney's live action adaptation of the classic story of Mulan. In what should be a massive hit, this definitely won't be the last we see of Liu Yifei.
If you were wanting to check out her older movies, especially her romantic dramas, you'll need access to Chinese-based video streaming apps, and unfortunately won't find too many with English translations. But you never know what the future holds, especially with the popularity of video streaming sites in the Western markets that cater to Asian films and dramas, her back catalogue might pop up sooner than expected!
Click Here to see a complete breakdown of Liu Yifei's filmography on AsianFilmFans