When it comes to shoujo and slice-of-life films, no one has captured the essence of these genres better than the Japanese. Perhaps it was the culture of manga, or chain-SMS stories, or the high percentage of women watching dramas that led to the genre being fully explored and exploited. But what we do know is that, if you're thinking of a fun, self-care night with your girls, then here's a list of perfect films for the occasion.
Badass female lead? Music industry setting? Perhaps, some magic and flowers? This list has it all.
7. Koizora, 2007
Koizora was one of the earlier Japanese films dealing with the topics of high-school love, teenage pregnancy and the consequent societal pressures surrounding it. But at the heart of it, it is still a story of two youngsters in love, trying to find their way through life - occasionally resorting to delinquency.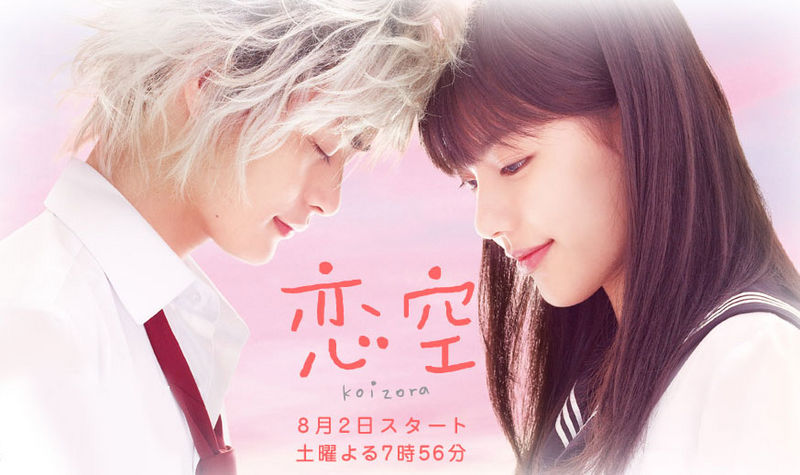 This was definitely the movie that elevated Haruma Miura to a household name while starting out the tend for teenage love stories. Though most successors chose to play it safer. If today seems like a good day to cry your heart out - give Koizora a chance!
6.Love for Beginners (今日、恋をはじめます), 2012
Adapted from a manga of the same name, Love For Beginners deals with a tried and tested trope - a geek girl falls for a playboy. But it does several things exceedingly well!
Unlike every geek girl movie ever, Hibino never has a transformation scene! She does not remove her glasses and become automatically attractive. Rather, the movie traces her growth over a period of years and the struggles both sides face while keeping up a relationship. Also, this is one of the earlier movies in which you can catch a glimpse of Kento Yamazaki!
5. Your Lie in April (四月は君の嘘), 2016
Your Lie in April follows the story of a piano prodigy who can no longer play the piano due to the resulting psychological trauma from a childhood incident. Enter Kaori Miyazono, an eccentric violin player. Will the dynamics change once Kaori's way of living rubs off on those around her?
Filled with the soulful strains of Rachmaninoff and Beethoven, the movie is a must for fans of classical music. The beautiful imagery is picked out straight from the pages of the manga, and the scenes where they play their instruments are truly something to behold.
4. Nana (ナナ), 2005
Very few mangakas have achieved what Ai Yazawa managed to do in Nana, Paradise Kiss or Neighbourhood Story. Set against the backdrop of the rock-and-roll scene in Japan, Nana has two female leads, both of whom are named - you guessed it - Nana! Despite sharing the same name and eventually the same apartment, these girls couldn't be more different.
While Nana 1 is an edgy punk, looking for fame and success in the industry, Nana 2 wants nothing more than normal life, a loving relationship and friends to stand by her. Despite their differences, the two come to share a close understanding and the story traces their ups and downs. Yazawa's
If you're looking for a tear-jerker that will leave you questioning the meaning of life, love, friendships and what it means to be a woman today, Nana is definitely the movie for you.
3. Orange (オレンジ), 2015
Since we're on the topic of tear-jerkers, how could Orange be left far behind! Capitalising on the hype surrounding Kento Yamazaki at just the right time, Director Kôjirô Hashimoto has managed to capture the essence of the manga - young love, the naivety of high schoolers, the pain of the past, and the healing power of friendship.
Orange is narrated by the protagonist Naho Takamiya who leaps between timelines and tries to understand (and perhaps save?) her close friend Kakeru from his demons. She receives letters from her future self, advising specific actions to better understand the new-comer Kakeru, but perhaps we are yet to understand how fate works. Orange might start out as a typical high-school romance flick, but it tackles several important issues and does so gently and maturely.
2. Heroine Shikakku (ヒロイン失格) - 2015
The fact that Mirei Kiritani plays the lead should be enough to convince you that this is a great watch! But, if you still need more facts - Hatori Matsuhima is a high-school student. She is pretty, smart and the heroine of her own life. And she knows that she is going to snag the boy- Terasaka in the end. But when Terasaka starts dating Plain Jane Miho, Hatori realises - perhaps she has been a side character all along?
The movie has captured the essence of the manga well. Kiritani is not your typical shoujo lead. She is selfish, judgemental, NOT plain-looking, and certainly does not take things lying down. Even the side characters get their own charming arc and are more than supports for the lead to stand out against. If you're settling in for a fun and joyful ride, check out Heroine, Dsiquaified.
Need more reasons to watch this? Kentarô Sakaguchi.
1. Your Name
Unless you're just stepped into the world of Japanese films, there is no way you have not heard the name of Makoto Shinkai or Your Name before. Your Name was a cultural reset that was meant to dissipate the unease after the tsunami of 2011. The story deals with love, loss and the act of letting go.
It starts out with two teenagers swapping bodies. While one of them lives near a rural shrine, the other lives in central Tokyo. Even this simple feature showcases the difference in Japanese society - the dialect, the sense of fashion, the ways of approaching the opposite gender. Your Name was so hugely popular, it even went on to inspire a matchmaking app.
This concludes the list, but the genre has way more to offer. What are the films you prefer to watch with your girls?