Are you tired of the news channels constantly bombarding you with statistics of the diseased and the deceased? Of fires and floods and tornadoes and earthquakes and locusts' attacks (basically 7 plagues of Egypt)? Of riots and hate crimes? We are halfway through 2021 and for the past year and a half, we have been encountering some apocalyptic level disasters we only could have associated from the end of the world movies like '2012'. Honestly, living through these times is not as fun and adventurous as shown in the movies. However, one thing is for sure, in this pandemic we are always in need of more movie suggestions to keep us distracted from the mess happening outside all around the world. This is where we come in to give you a hand!
Our suggestion? Turn off the news and spend a few hours watching some of the best Korean disaster movies instead. Some of them may feel like you are still watching the news but at least you know it will be over soon with a happy ending (well mostly, no promises).
Here are our top 5 favorite Korean disaster movies:

Running time: 121 minutes
Disaster: Epidemic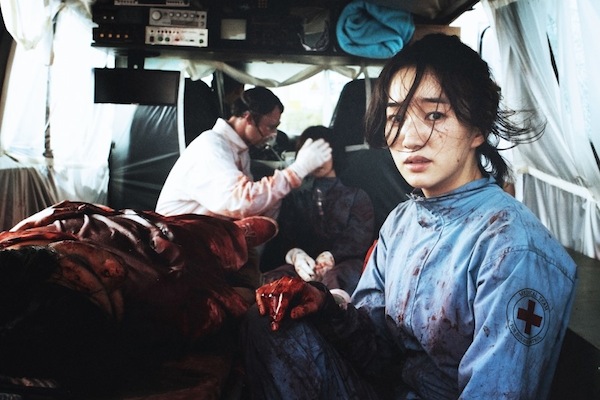 In a time when the world is struggling with a pandemic, Flu hits a little hard. As the title suggests the movie narrates a story of a fatal flu-like virus (a deadly strain of H5N1) that kills its victims within 36 hours, spreading in the whole country of South Korea. The government is helplessly working on a war footing. Quarantine is imposed. The people are scared and ill-informed. A war between civilians and first responders ensue. The only hope is a vaccine that is being formulated from the antibodies present in the blood of a sole survivor. (Yes I know, sounds way too familiar doesn't it?)
The film is directed by Kim Sung-su and features Soo Ae, Jang Hyuk, Park Min-ha, Ma Dong-seok, and Yoo Hae-jin in major roles.
The flu was released in cinemas on Aug 16, 2013. Produced by iLoveCinema (Sidus HQ) and distributed by "CJ entertainment" the movie did a business of US$19.8 million. The movie was released on streaming services on Jan 5, 2017.
Running time: 98 minutes
Disaster: Bomb Explosion (Terrorist attack)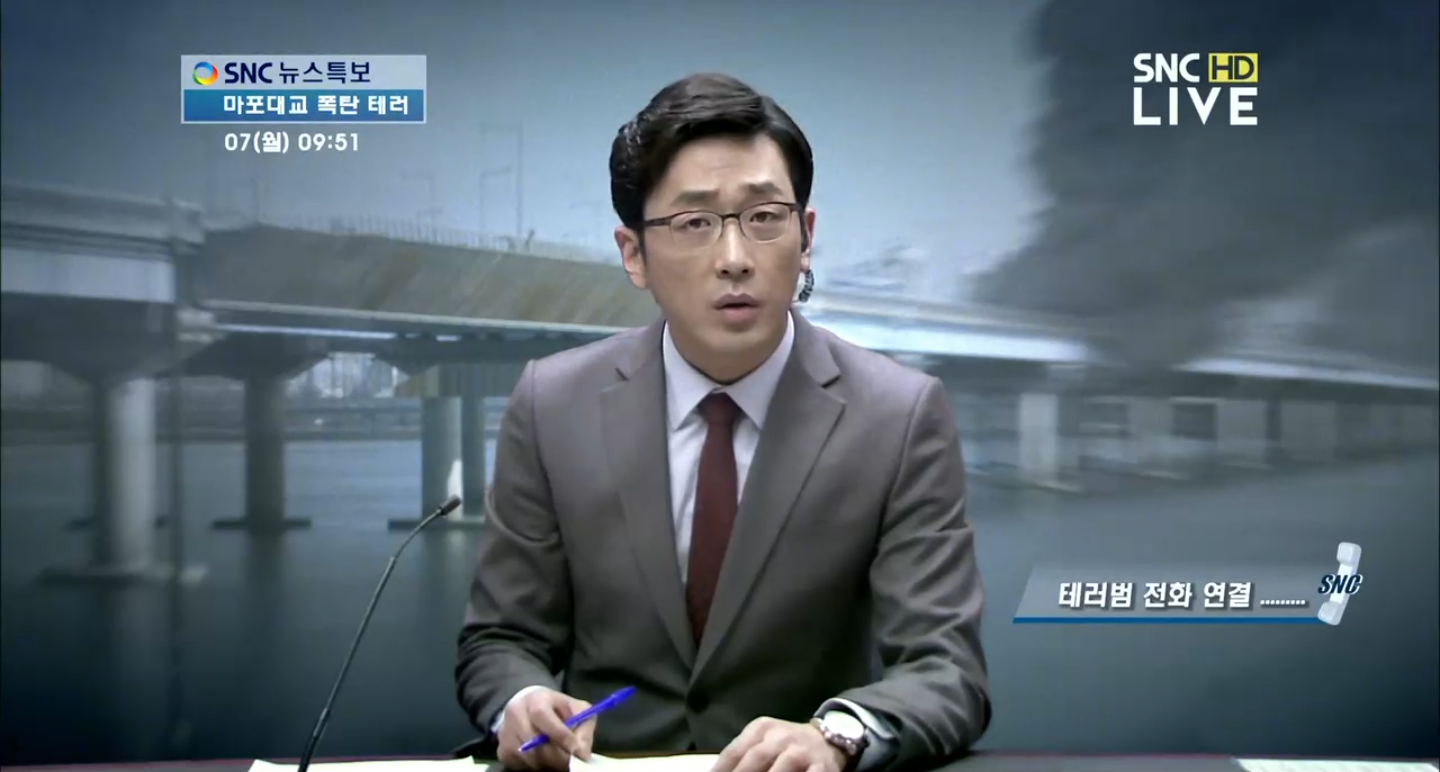 Yoon Young-hwa was once a top journalist and news anchor. When he gets an opportunity to exclusively cover a terrorist attack live, he is hell-bent on using it to make his great comeback. However, he soon finds out this was not the blessing in disguise he had hoped for. The terrorist has rigged a bomb in his ear which would explode if the terrorist's demands aren't met!
The Terror Live is written and directed by Kim Byung-woo and stars Ha Jung-woo, Lee Geung-young, Jeon Hye-jin, and Lee David. Made with a modest budget of US$3.12 million, the movie did a business of US$35.7 million despite the tough competition at the box office from 'Snowpiercer'.
Running time: 121 minutes
Disaster: Building collapse (helicopter crash into a building)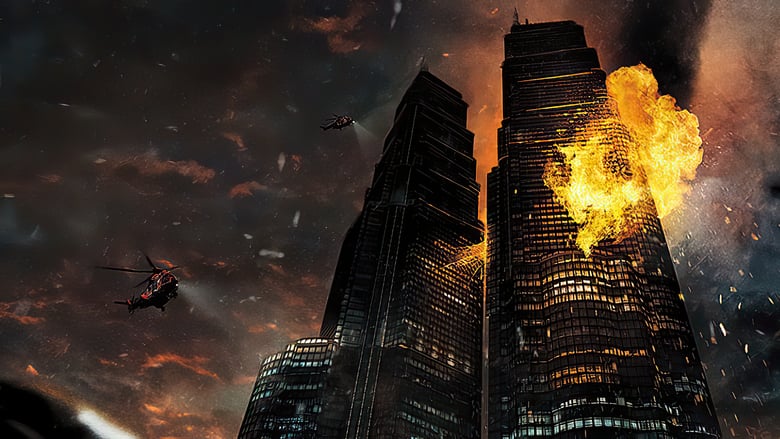 The Tower starts as a perfect Christmas movie (it was released on Dec 25, 2012). There is a lavish white Christmas party at the Tower Sky, a 120 story luxurious building. There are even two helicopters sprinkling snow from the sky to create the perfect atmosphere for the party. Everyone is excited about the party and are looking forward to having the best night of their lives. Unfortunately, fate ( or the director Kim Ji-hun to be literal) had other plans for the night. One of the helicopters crashes into the building. Chaos ensues as the Christmas party becomes a death trap. Things keep getting from bad to worse as everyone struggles to make out of the building alive.
This movie honestly gave me a bit of Titanic/Final destination vibes as things just kept getting worse one incident after another; elevators getting electrocuted, fires raging on, roof and floors collapsing as the protagonists and firefighters try desperately to save lives.
The Tower is directed by Kim Ji-hun and stars Sol Kyung-gu, Kim Sang-kyung, Son Ye-jin, and Kwon Tae-won in major roles. The movie was made with a budget of US$9.3 million and was able to make US$36.4 million globally. The Tower also holds the record for the second-highest opening day ticket sales in the history of Korean cinema (The Thieves hold the first position).
Disaster: Tsunami

Running time: 120 min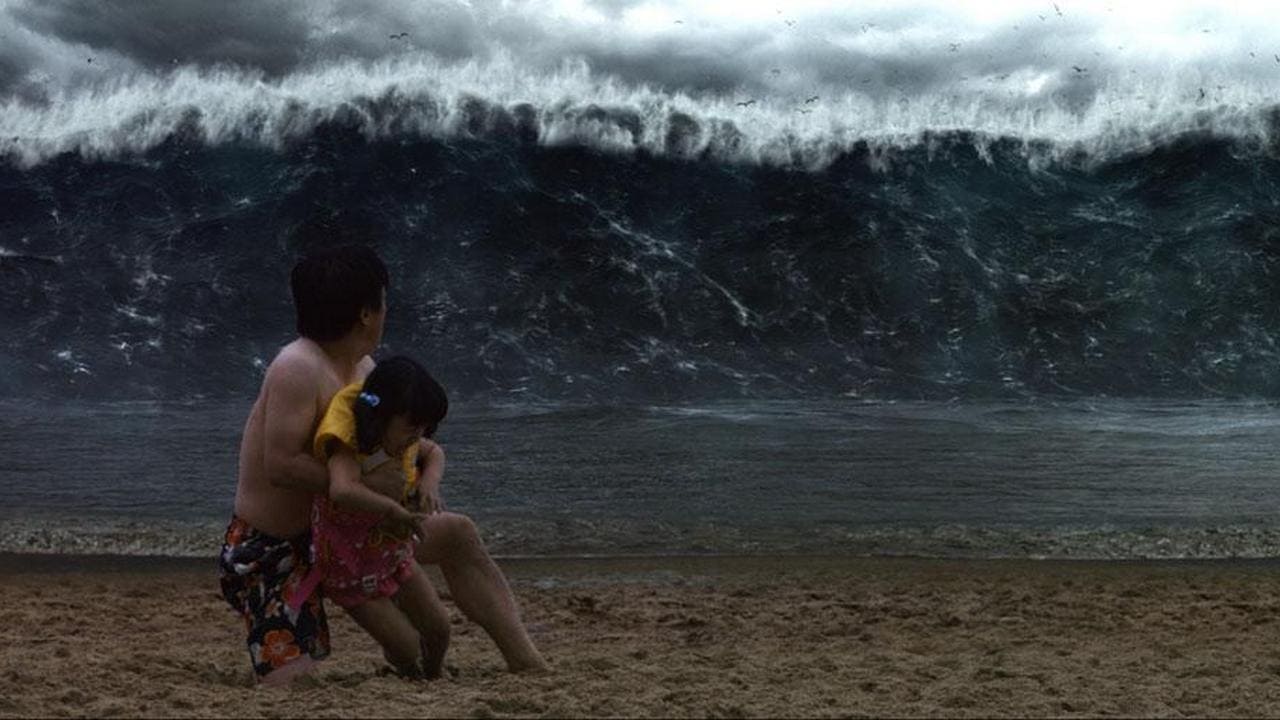 A geologist Kim Hwi notices the same signs by the Sea of Japan as displayed by the Indian Ocean before the 2004 Tsunami. However, his fears are dismissed by the Disaster Prevention Agency. Soon this prediction comes true. A meta-tsunami is created in the sea and starts moving towards Haeundae. The people, including citizens of Haeundae as well as tourists, have only 10 minutes to escape. The film follows different characters trying to survive the oncoming Tsunami.
Directed by Yoon Je-kyoon, Haeundae is loosely inspired by the events of the 2004 Indian ocean Tsunami. It was released worldwide with the international title of Tidal wave. The movie features Sol Kyung-gu, Ha Ji-won, Lee Min-ki, Park Joong-hoon, and Kang Ye-won in the major roles.
Released on 22 July 2009 Haeundae (Tidal wave) is said to be one of the first Korean movies of the Disaster genre and one of the most successful ones. Made with a budget of US$16 million, it was able to make US$74.4 million worldwide.
Running time: 103 minutes
Disaster: Deadly Gas (Terrorist attack)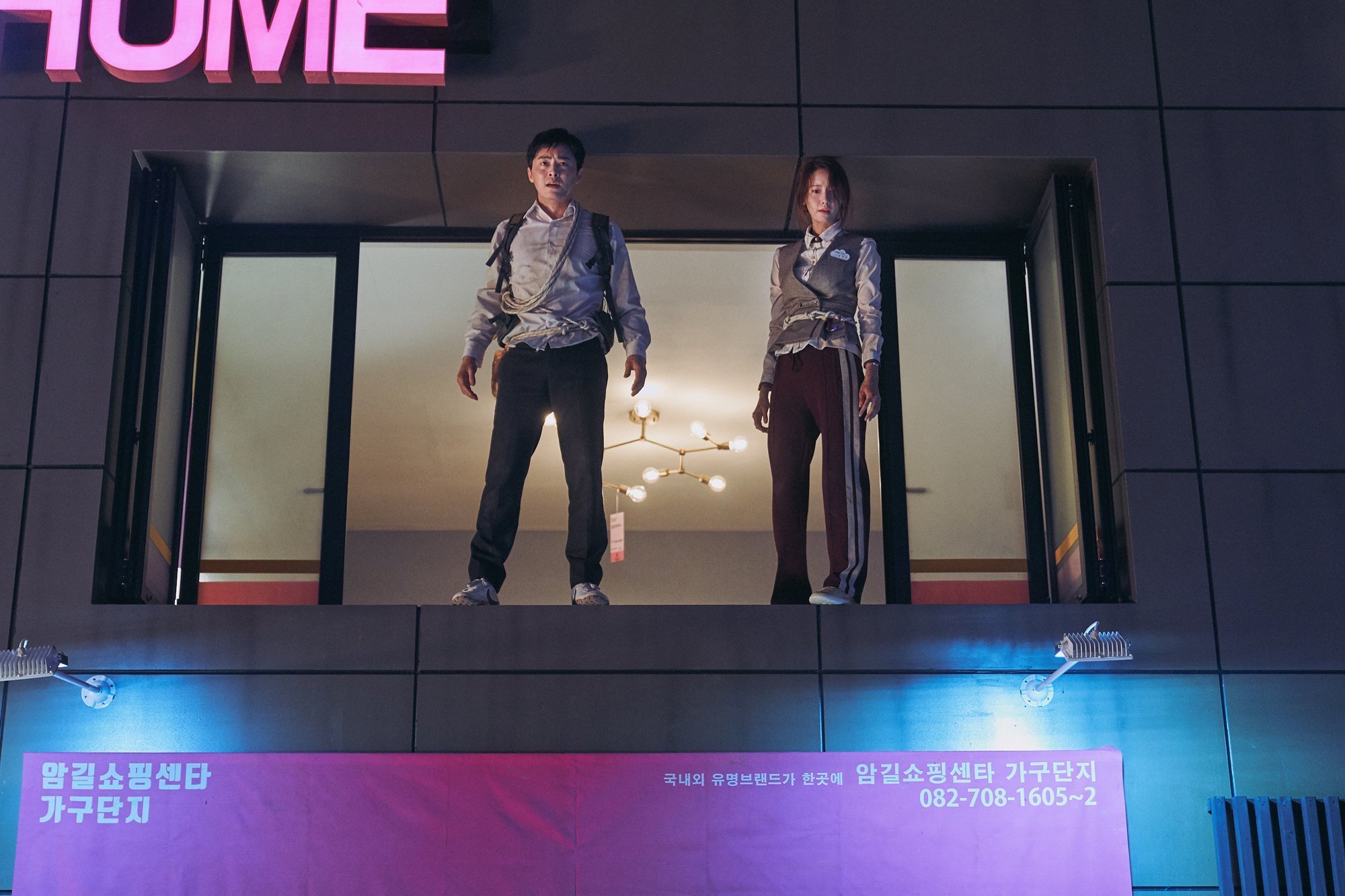 When we think of a disaster movie, we usually think of grim and dark plots, misery, struggle, and death. What we don't usually associate with a disaster movie are laughter and comedy. And this is precisely why Exit is my personal favorite on this list.
Lee Yong-nam and his family are celebrating his mother's 70th birthday and he is trying his best not to be downcast on the happy occasion. To make matters worse he bumps into his old-time crush Ui-ju who is working as assistant manager in the banquet hall the party is being held at.
During the party, a terrorist releases toxic gas into the area. Helicopters are sent to rescue people from the roofs of the buildings. After helping his family get out of danger, Lee Yong-nam and Ui-ju w have only one chance to get to safety; climb the tower crane. Luckily they are both excellent rock climbers. But can they reach it before the gas spreads in the whole area?
The movie is filled with light-hearted jokes and heart-pumping action and will keep you on the edge the whole journey.
Exit was the directorial debut of Lee Sang-geun. In the lead roles, the movie stars Jo Jong-suk and Im Yoon-ah, otherwise known as Yoona. The supporting cast includes Kang Ki-young, Kim Ji-young, Go Doo-shim, Oh Hee-joon, Bae Yoo-ram, and Park In-hwan
Exit was the third highest-selling domestic film in South Korea of 2019. It also became the sixth highest-selling domestic film of all time in South Korea. The film grossed a total of US$69.5 million worldwide.
Well, these are our recommendations for top Korean Disaster Movies. Let us know your favorite movie and scenes in the comments.
Here is to hoping our world stops following the plot of a disaster movie and we will welcome happier and peaceful times soon.
Until next time!