Fighter in the Wind is a widely known classic, starring South Korean actor Yang Dong-geun as Choi Bae-dal, the protagonist who ends up fighting organized crime and conquering his own fears as a martial artist.

The film is based on the comic book Karate Baka Ichidai about a real-life competitor who immigrated to Japan toward the end of World War II to become a fighter pilot, but who discovered a new style of martial arts, Kyokushin. He eventually changes his name to Masutatsu Oyama and reinvents his life.
The twists and turns depend on his fate of defeating other martial artists across the country, as Bae-dal becomes a master of karate with his bare hands.
What makes this film a most-watch classic is the cinematography of Shin Ok-hyeon and how he captured the battle scenes and training sequences in the snow. With action-packed movements, the editing provides a fast-paced rhythm juxtaposed with the rest of the surrounding calm landscapes.
Written and directed by Yang Yun-ho, Fighter in the Wind sets itself apart through the vivid narrative of tracing the steps of a young karate practitioner from the military training grounds to the streets and mountains. Along the way, he encounters local gangsters, American soldiers, friends, allies, and mentors.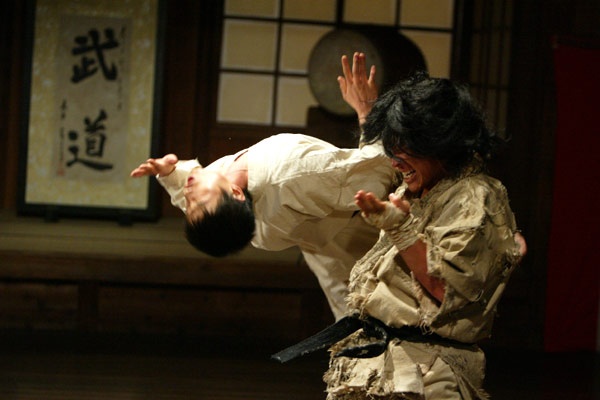 At the same time as contending against racism, the film brings attention to the oppression that Koreans faced from the locals when living in Japan during that period, enduring a life that was near insufferable.

The film also features Masaya Kato as Kato, the leader of the Japanese Karate Association and enemy of the protagonist due to his xenophobia, along with Aya Hirayama as Yoko, a young Japanese woman who is saved by Bae-dal and becomes romantically involved with him.
Beyond the outstanding dramatic elements of conflict, the movie provides a commentary on revenge and survival, lifelike depictions of various eras in a war-filled time, and the duels of inner and outer combat.

As the seventh highest grossing Korean film of 2004, it sold 2,346,446 box-office admissions across the nation. It is one of the most remarkable martial arts films of its genre, resurrecting centuries-old themes of betrayal, losses, and triumph.

Lead actor Dong-geun will be back on the scene again in the film The Night of the Undead, coming out this month on Sept. 29, 2020.

Available to watch now on Amazon Prime (Region Restrictions May Apply)